6 WEEKS Online SUMMER TRAINING
6 WEEKS SUMMER TRAINING IN NOIDA | ONLINE SUMMER INTERNSHIP IN DELHI
4.9

out of

5
based on
5642
Votes.
Are you Looking for the Best Institute for 6 Weeks Summer Training in Noida / Delhi NCR? DUCAT offers an Online Summer training course in Noida / Delhi NCR with live projects by expert trainers. Our Summer training program in Noida is specially designed for Under-Graduates (UG), Graduates, working professionals, and also for Freelancers. We provide end-to-end learning on Online Summer Training Domain with deeper dives for creating a winning career for every profile.
Table of Contents
Ducat is one of the eminent institutes which offer 4 to 6 weeks of summer training for the different courses where students can build careers and become an expert in the field. Where they get different opportunities to enroll in internships and get proper training in the field. It is known to be the best summer training institute in Noida where students from different backgrounds choose a field and become experts on the platform. Where summer training is leveraged for career prospects where they offer a course for undergraduate, postgraduate, working professional, and freelancers. Where they can uplift their skill and become experts with knowledge in your field. It focuses on different concepts which you can implement on the platform.
Why To Enroll In Our 6 Weeks Summer Training Course in Noida / Delhi NCR?
We Focus on Innovative ideas, High-quality Training, Smart Classes, 100% job assistance, and Opening the doors of opportunities. Our 6 Weeks Summer Trainees are working across the nation. We at Ducat India, No. #1 6 Weeks Summer Course in Noida with 100% Placement assistance.
What Our Students Will Get During Online Summer Training Course?
Get dedicated student support, career services, industry expert mentors, and real-world projects. Career Counselling. Timely Doubt Resolution. 50% Salary Hike, Career Counselling Case Studies + Tools + Certificate.
The Summer Training Ducat Courses deliver a broad range of fundamental and specialty Summer Training courses designed to help build a competent, qualified, and efficient workforce.
Ducat India Courses provide a powerful training tool that can be used directly where training is required, e.g., in the classroom, at the plant, in the office. It offers all the important content in the appropriate context, comprehensive assessments, and the latest tools to evaluate performance. With seamless integration into Mind-Sight, the Ducat Courses provide a multitude of ways to fulfill Summer Training needs.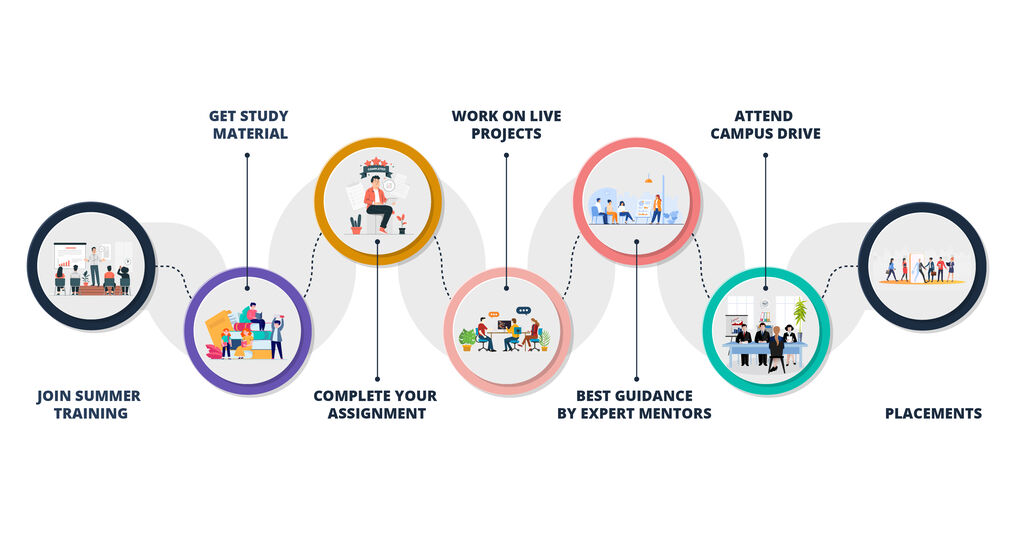 FEATURES & BENEFITS
The broad range of fundamental and specialty Summer Training courses
Used by top-tier manufacturing, industrial, and technical associations
Comprehensive assessments
Seamless integration within the Mind-Sight learning and content management system
Project Based Summer Training is conducted by Ducat India with a range of courses to be delivered across a number of locations. The programs are usually conducted twice a year, beginning in the month of January and July. The duration of the program varies from 4 to 6 months depending on student needs and qualified partner professionals are engaged to deliver the program and guide the trainees throughout the program. There are around 50-60 participants in a batch with a good student-trainer ratio for effective learning. Upon completion of the program, a training certificate and project letter will be provided to successful students.
Ducat is providing great opportunities in the growing field to the students. We have the best career-boosting options for learners. At Ducat, we provide training to the BCA and BSc. IT, B.tech, and MCA students which are required to get engage in large software, web development, and internet marketing companies. It has been observed that after completing education from the colleges with a very good percentage, it becomes difficult for the fresher to get a suitable job. It is not their fault; however, in colleges, they don't get a chance to learn job-oriented education. We are here to make them efficient so that it became easy for them to get jobs in any required field in the IT industry. We focus to give the best training sessions to the students that help them in their skill enhancement. We provide different training courses to our employees that include complete teaching sessions and live projects handling experience. It helps them to enhance their basic as well as practical knowledge. We also provide job opportunities to our trainees if they learn and grow with our training programs.
Ducat offers training which fulfils the adhere according to industry standards which helps the meet and needs of the university and offers deep training with practical exposure to achieve the highest quality of education under the guidance of experts where you get deep theoretical and practical knowledge of the field. Where you get the opportunity to work with top firms and get practical knowledge. Where summer training helps the students to get real-world experience. Summer training is essential for the students and gets the advantage of real-world experience where they offer an essential experience where they offer the experience of the culture and environment of the company with the project. Where you get to know about the course and entitle the skills to become an expert in the field. It is beneficial for students and offers career benefits.
Ducat is an eminent summer training institute in Noida which offers offline and online summer training where students can choose according to their preferences. The institute offers industrial projects which give proper understanding and help to meet the requirement according to the needs. It gives you depth training and practical exposure offered to the students where they achieve high-quality work by top companies. Where they offer 4-6 weeks of summer training which depends on the requirement of the students and it has qualified professionals who are engaged in delivering the training program and easily guide the trainees.
With an emerging change in technology, there is tough competition in the market where people need to work in different industrial scenarios where they have constant technical enhancement where they easily cater to rapid demands. It is one of the best ways to utilize the best way to spend your summer vacation by getting knowledge and improvising your skills. While summer training is essential for students where you get proper time to learn and acquire knowledge where you can easily uplift the skills. It helps the students to make the proper career in the technical background. Where you can take it as a fun activity where you can polish your skills in the interested field and become an expert.
Why Join Summer Training?
Summer training provides the advantage to gain experience in the real world where they face the job, interviews with the most important experience where the training offers actual organizational culture for the environment with the industrial project. Where you can learn about practical aspects where you implement the training and get knowledge of different courses where you learn coding, decoding, programming, debugging, installation, designing skills, and proper guidance to the experts.
Ducat offers summer training in different platforms like Java, Python, Digital Marketing, SAP, AutoCAD, PHP, SQT, Cloud, and many others where students can choose according to their preference and they have reputed firms that allow them to work with them and give some practical experience. Where is all additional assistance with proper skills and development during the summer training? Ducat is the number 1 institute for summer training in Noida where they have a presence in NCR and many students from different parts come and enroll in their programs. Where it is known to be the best summer training institute in different fields where they easily outsource the platform to the clients. The institute offers a variety of courses which is progressive and students can choose according to the relevant platform. The institute has a team of IT enthusiasts who work with various industries and get global exposure in the market.
Features Of Summer Training
Develops Greater Skills: In this competitive world, you need to enhance your skills and get a good internship and a good job. Where you all need to develop outstanding skills and it helps to focus on improving skills and making the best course which is decided to work on. It has good skills which are of key importance to get a high career goal and get good salary packages but also creative for work and good culture work.
Practical Knowledge Of What We Read: It offers theoretical knowledge which is mandatory but practical knowledge is necessary when you go down to work and is boring. Better change on the platform where you need to work in a practical field and get a real sense of professional touch.
Create Opportunities For Internship And Job: With advanced skills, you upgrade your knowledge of the particular platform and become an expert in the field where you get the best opportunity on different platforms and easily drag on the side journey industry and hire easily. Where you can choose the company and get more career opportunities.
Confirm Your Knowledge: It is necessary to have a certificate in the field where you can easily apply for the job where you can resume your knowledge of the field. You need to have a certificate in the field in which you have done summer training. You need to have advantageous skills with the summer training program.
Best Summer Training Institute
Ducat is one of the best summer training institutes in Noida where students from different parts come and become experts. Where the changing technologies and methodologies through high competition in the greater platform. Where industry scenarios need to be constant through technical enhancement where they can easily cater for rapid demands. Summer training is one of the best ways to utilize the study and polish the skills and get advancement in the platform. It is important to get proper timing to learn with acquiring knowledge where you can uplift the career in IT skills
What Is A Summer Internship?
A summer internship includes working on real-life projects where you need to convert your knowledge into action. Where you can employ the company and market completion is increasing with rapid growth where students prefer to do summer internships which is essential and helpful for attaining depth knowledge of the field. Where summer internship is essential for students and many companies are in search of people with technical skills. Where companies do not prefer to train the students as they prefer to choose trained students where they don't need to spend time and money on training the employees. After the summer internship freshers get jobs easily where they get a solution to problems and take industrial exposure with proper practical experience.
Benefits Of Summer Internship
Professional experience for the students.
Get the opportunity to develop a professional network.
Enhance your resume.
Best time to get career plans and secured goals.
Get the university credit.
Gain confidence.
FAQ (Frequently Asked Questions)
Q: Is online summer training certification useful?
A: Yes, it is beneficial to have a summer training certificate. It will help to get easy internships and jobs.
Q: Are 6 weeks of summer training sufficient for students?
A: Yes, it is sufficient to get summer training for 6 weeks.
Q: Is it beneficial to enroll at Ducat for a summer internship?
A: Yes, it is beneficial to enroll at Ducat for summer training as they offer the best 4-6 weeks of training and make the students expertise in the field.
Q: Does Ducat offer placement after summer training?
A: Yes, Ducat offers 100% placement after completion of the summer training program.
Q: Difference between summer internship and summer training?
A: Summer training is all about learning new skills in an industrial environment and on the other hand summer internship is all about having a short-term position in a company where you can apply the knowledge and skills you already have in live projects.
JAVA SIX WEEKS TRAINING
JAVA IN 6 Weeks course at DUCAT prepares the participants to leverage this demand by making them conceptually and practically strong in the technology
Continue Reading
.NET Six WeeksTraining
DUCAT has a training course named MICROSOFT .NET IN 6 Weeks. This course would make you technically, practically, and fundamentally strong....
Continue Reading
PHP Six weeks Training
DUCAT provides the best-known experienced faculties with a vast sea of knowledge about their particular stream...
Continue Reading
Embedded Six Weeks Training
A never before in the history of automation, was quite possible without embedded system....
Continue Reading
SQT Six Weeks Training
Be a Profession with Technical Training Courses. DUCAT is one of the most preferred places....
Continue Reading
CLOUD Six Weeks Training
CLOUD COMPUTING involves large no. of computers connected through real-time communication network like internet...
Continue Reading
Autocad Six Weeks Training
People who want to have a respectable job must have CAD 6 Weeks training. DUCAT is the best choice for them to have this training...
Continue Reading
Oracle Six Weeks Training
DUCAT is the only training institute giving technical training with a difference. The institute not only provides training but takes proper care that the training..
Continue Reading
Networking Six weeks Training
DUCAT is a well-esteemed classroom that provides networking training programs for fresh IT graduates. We provide live projects for candidates that greatly..
Continue Reading