CLOUD COMPUTING COURSE | CLOUD COMPUTING TRAINING ONLINE | AWS CLOUD TRAINING INSTITUTE IN NOIDA
4.8 out of 5 based on 5231 Votes.
Are you Looking for the Best Institute for Online Cloud Computing Training in Noida? DUCAT offers Cloud Computing training courses in Noida with live project by expert trainer. Our Cloud Computing training program in Noida is specially designed for Under-Graduates (UG), Graduates, working professional and also for Freelancers. We provide end to end learning on Cloud Domain with deeper dives for creating a winning career for every profile.
Table of Contents
Ducat is one of the renowned names where they offer the best to the students and make them professional in the field. The institute offers training according to industry standards that help attendees to secure placements in their dream jobs at MNCs. The institute offers education to undergraduates, graduates, post-graduation, working professionals and freelancers. It is the 20+ years of experience in the market which give the best IT training to the students. It is a blend of academic learning and practical sessions to give optimum exposure and helps in transforming the future of the kids with successful career options.
What Is Cloud Computing?
Cloud computing is an abstraction of computing, storage, and network infrastructure which is assembled as a platform in which application the system is deployed quickly and easily scaled. Cloud computing is a platform which offers various services like storage, database, server, software, analytics,and many others and it also offers fast innovation with convenient resources. It is a tool which easily enables the various computing resources and has proper storage and easy access. data. It is a software which has multiple users where they can easily access the data from any place. It is also referred to as technology which includes servers, infrastructure, and many other devices.

Important:

Cloud computing is the delivery of computing resources, such as IT infrastructure or data centres over the internet. The importance of cloud computing can be found in using services like Google Drive and Apple iCloud. The use of these services allows documents, contacts, pictures, and a whole lot more online.

Cloud training is highly in demand and has become a new business model. It is a new way of using computers in various areas such as education, business, communication, military, hospitals and other places. It is a way of increasing profits and productivity and it helps in achieving the goal. It easily executes various business applications. It is impacting business, and career, and provides a worldwide opportunity for the students. After cloud computing certification you will be able to store large data, manage, share and collaborate the data with high speed and accuracy.

In today's world, learning cloud computing courses is becoming popular while it has been used in numerous fields. Where they easily help to reach with a meteoric rise and opportunity to work with many top organisations and embrace the cloud technology where it has a variety of factors like productivity, infrastructure, cost, speed, performance, security and others. It is an IT service that works with a directly paying pricing model through the internet with high demand. You can easily access IT assets such as software and apps, server and database, through cloud technologies.
What is AWS Cloud Computing Technology?
Online Cloud Computing Training Course means storing and accessing data and programs over the Internet worldwide instead of your computer's drive. This is just a metaphor for the Internet.
It involves large no. of computers connected through real time communication network like internet. CLOUD also involves resource sharing and how effectively these shared resources are used. Resources are shared by multiple users and also dynamically re-allocated.
Cloud Computing allows system accessibility from anywhere using a browser. The feature is to make it widely used nowadays.API or application programming interface in this software allow machines to interact with cloud software. It is suitable for disaster data recovery due to use of many redundant sites that enhances the reliability.
Moreover its applications are easy to maintain. Another service provided by Cloud Computing Training Center in Noida is on demand self service which allows users to configure and use cloud services by using catalogues. Thus infrastructure engineers design cloud computing templates which are according to consumer requirement.
Basic modules of the cloud computing are easy to understand so anyone with basic computer and internet knowledge can learn. Approaching higher level concepts of Cloud computing it is mandatory to have understanding of programming in .net and J2EE.
Types Of Cloud Computing
Public Clouds: Public clouds are owned by a third party where they deliver their computing resources like servers and storage through the internet. For public cloud Azure is a best example. With all the public cloud all hardware, software and other supporting infrastructure are owned and managed by cloud providers, it accesses their services and easily manges the account using a web browser.
Private Cloud: A private cloud refers to cloud computing resources which are exclusively for a single business or organisation. A private cloud is physically located on the company site data centre. It has companies where you can pay easily to third-party service providers to host the private cloud. A private cloud is one of the services and infrastructure maintained on a private network.
Hybrid Cloud: It is a cloud which is a combination of public and private clouds bound together by technology which allows data and applications and is shared between them. It allows data and applications to move between private and public clouds whereas a hybrid cloud gives business greater flexibility and fewer deployment options and helps to optimise the existing infrastructure, security and compliance.
Benefits Of Cloud Computing
Cost: It is a platform which easily eliminates the capital expense which is buying hardware and software that you can easily set up and run according to data centres where you rack the servers around the clock with electricity power and cooling for managing the infrastructure which adds with fast speed.
Speed: Cloud computing services are provided self-service on demand where they have vast amounts of computing resources which can be provisioned in minutes, which is typically away just a few mouse clicks, which gives business flexibility and taking pressure on capacity planning.
Reliability: It makes data backups, disaster recovery and business continuity easier and it is less expensive because data can be mirrored at multiple redundant sites on different network providers.
Security: Many cloud providers offer a broad set of policies, and technologies and easily control and strengthen the security with proper posture overall, which helps to protect your data, apps and infrastructure from potential threats.
Global Scale: It offers the global scale service which has the ability to be elastically used all over. Where cloud speaks the delivering means which has the proper amount of IT resources which has more or less computing power, storage, bandwidth which offer the right geographical location.
Fast Facts:
Nearly one-half of US Government agencies use the cloud.
Banking produces the most activity within the cloud.
The cloud computing market is projected to reach $106 billion by 2016.
60% of U.S. IT decision-makers trust the security of the cloud.
Career Opportunities After Cloud Computing
Choosing cloud computing training is a best option while it leads to your career success and offers best opportunities after completion of the course. Cloud computing is a platform which is used in a business where many service providers and experts are offered with good salary packages. According to study it is seen that it has steady demands for professional cloud computing experts who offer a better future prospective way and reach towards high. Where you will give a right path to your career. Cloud computing course is know to be best choice for the beginners which offers best opportunity with career benefits. After completion of course you have an array of job options like java developers, dot net developer, data engineer, data scientist, software engineers and others.
Our Alumni Works At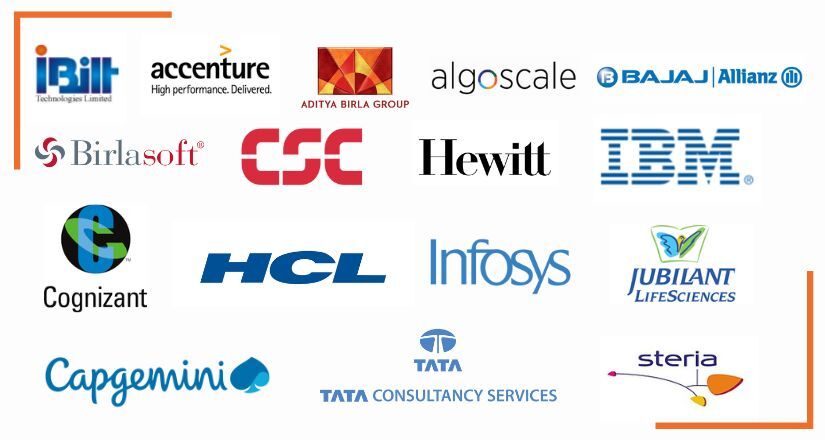 Key Takeaways:

Cloud-based storage makes it possible to save files to a remote database and retrieve them on demand. Services can be both public and private—public services are provided online for a fee while private services are hosted on a network to specific clients.
Why To Enroll In Our Online Cloud Computing Training Course in Noida?
This Cloud Computing Training Course in Noida will teach you basics of the Cloud and will provide you with a solid foundation. Our Cloud Computing Certification Program provides comprehensive instruction and the tools to demonstrate proficiency in this popular language.
Students will build a live project showcasing their skills in development, Systems Development, Data analysis. Learn Cloud Computing and make your future brighter by learning it from Best Cloud Training Center in Noida. For better results, go for this Course which is a good start for beginner's who want to step up in Programming.
After Cloud Computing Courses, you will get confidence and can work on your own projects. As most of the companies are offering jobs for those employees who have knowledge of Cloud, there are a lot of job opportunities. Thus Cloud Courses will be very helpful for your growth in industry. The only need for a student is to select the right course from a right place like Ducat the Best IT & Professional Training Institute in Delhi NCR.
Why To Choose DUCAT For Cloud Computing Training in Noida?
We Offer the Best Cloud Computing Training in Noida by industry experts.
Regular as well as Weekends classes is provided.
We have Expert Trainers with years of Industry Experience.
Trainers of Ducat help every student in live project training.
We also offer 100% Placement Assistance.
We also offer Internships in every field.
Students can come anytime and can access the labs.
We also prepare our students for interview and provide every tool to get a job.
Discussion Zones are also available.
24x7 internet facility.
Students will be working on live projects.
Ducat Noida provides well Recognized Course Completion Certificate with project letter.
Students can retake the class with zero charges.
Helps students to take knowledge of complex technical concepts.
We accept: UPI, Cheque, Cash, Paytm, Credit Card, Debit card and Net Banking.
Ducat has a dedicated team of highly expert trainers to identify, evaluate, implement and providing Best Cloud Computing Training Institute in Noida for our students. Our Trainers leverages on a defined methodology that helps identify opportunity, develop the most optimal resolution and maturely execute the solution. We have best trainers across the world to provide training who are highly qualified and are best in their field.
Trainers of DUCAT have experience working on this technology in IT Infrastructure of different companies. During the lab sessions students are trained to work on cloud services and develop and access application under expert guidance. Placement assistance is also provided to students to make their job search easier. Also special guidance for interviews is provided to students.
How Ducat Provides Best Placement Assistance?
Ducat is the best institute for Cloud Computing Certification Training in Noida in providing placement assistance to every student.
We also teach students how to build their Resumes.
Our Placement cell helps every student to get a job in MNCs like Tech Mahindra, Wipro, TCS, Accenture, etc.
Internships are also available in Ducat.
The Training & Placement cell is committed to providing all attainable help to the students in their efforts to seek out employment and Best Cloud Computing internships in Noida in every field. The placement department works beside alternative departments as a team in molding the scholars to the necessities of varied industries.
We have got a proactive and a business clued-in Placement Cells that pride itself of a robust skilled network across numerous sectors. It actively coordinates with every student and ensures that they get placed with purported MNCs among six months of graduating. We are the Best AWS Course Institute in Noida.
Ducat Noida is one in all the leading IT & Technical Training Institute in Delhi NCR. We have got a team of Best professionals who teaches our students to learn cloud on live projects. We provide Quality in Cloud Computing Training Course in Noida to come up with deployable and expert professionals for the industry. We are certified partners with various Multi-National Companies (MNCs) and provide our students with professional certification. That is why we are the Best AWS Course in Noida.
Frequently Asked Questions (FAQ's)
1: Which institute is best for the cloud computing course?
Ans: Ducat is one of the best institutes for learning for cloud computing professionals.
2: Is cloud computing a good career?
Ans: Yes, cloud computing is one of the best career choices and you get many career opportunities with a good salary.
3: How is Ducat Helpful?
A: It is the best institute in NCR where they offer various courses from more than 20+ years and give quality education to the students and help them to shape their future in their chosen field. It assures the students to make their dream come true of getting a good job in top companies.
4: What is the average salary of cloud computing in India?
Ans: The average salary of cloud computing is 4-5 LPA.
5:Is there any job guarantee after completion of the cloud computing course?
A: Yes, Ducat offers a job guarantee after completion of the cloud computing course.
6: Is the cloud safe for personal information?
Ans: With numerous high profile hacks of personal information in recent years cloud providers have worked to step up the security game for personal information.
7: What do I need to do to prepare for the cloud?
Ans: Many companies do not take the time to consider what they may need to put into place prior to shifting to the cloud. For the most part, preparing to shift to the cloud is simple and just requires you having a Cloud Service Provider handle the transition. However, one of the biggest things to consider is your network bandwidth. With the strain put on local internet connections from cloud computing, you may consider upgrading your bandwidth or investing in SD-WAN technology to increase connectivity.
8: Do I get a certificate at the end of the cloud computing course?
A: Yes, we offer a certificate after completion of the cloud computing course.
9:What are the Benefits of Cloud Computing?
Ans: No need to procure and maintain on premise data centres Cloud services are compatible with multiple devices and operating systems You can enjoy instant scalability, thus improving organisational agility Cloud environments are generally more secure as compared to on premise ones Enterprise data is centralised, making it easy to secure it and maintain backups Accelerate the on-boarding time of employees, especially remote workers
10: I Have More Queries?
A: In case you have any other queries contact us and our experts will get in touch with you in a short period.
Cloud Computing Part I Getting Started
Cloud Computing Basics
Cloud Computing Overview
What Is Cloud Computing?
Advantages of Cloud Computing
Characteristics and Service Modules (IaaS, PaaS, SaaS, S+S)
Deployment Module
Architecture
Introduction to Salesforce CRM and Force Platform
Essentials of Salesforce CRM and Force Platforms
Architecture of Salesforce CRM
Different type of Edition Available in Salesforce CRM
Salesforce CRM Navigation & Functionality
Data Models
Administration Essentials
Identify Confirmation
Tab Setting, Record Types and Field Level Security.
Organization Administration
Configure Salesforce CRM to suit your business needs
Design SaaS Applications on Force Platform
Consideration when building a data model
Develop custom objects and fields, encrypted fields, field help, and field history tracking
Use master detail, lookup, and many-to-many relationships.
Create a user interface for custom application using the custom Object tab, Page Layout, and Customization options
Field attributes on the page layout.
Workflow Approvals
Create automated business process by using Workflow approvals.
Test the process.
Plan your approval process.
Use the built in wizard to create the process.
Data Validation
Salesforce CRM Validation to ensure Data Integrity.
How to create data Validation rules.
Set up a validation design methodology.
Using the required and unique property features to control data that is entered.
Apex Programming
Introduction to Object Oriented programming using Force Apex.
Exploring Developer Console.
Apex Controllers and VisualForce Controllers.
Collections in Apex
SOQL and SOSL
Classes, Interfaces and Triggers
Batch
User Interface through Visualforce
Design & Development of Visualforce Pages
Apex Classes to create Visualforce Controllers
Incorporate Visualforce pages into Salesforce.
Use VisualForce tags to create page layouts, input forms, output tables, custom components, and more.
Create partial page refreshes on JavaScript events
Learn about the Functionality that comes with VisualForce standard controllers.
Security and Access
Basic of configuring security and access
settings in Salesforce CRM
Setup your Company's Organization-wide defaults.
Role Hierarchy and Sharing Modules.
Analytics
Reporting in Salesforce CRM
Dashboard
How to create standard and custom reports by using different report types, filter criteria and custom summary formulas
AppExchange
What is AppExchange?
How to search for and install applications from the AppExchange.
How to manage and delete applications that you've installed
Marketing Administration
Learn about the marketing administration features available in Salesforce CRM Marketing.
Learn how to create a campaign targeting both existing and new leads, convert leads, and measure campaign results.
Extending Salesforce CRM throughWeb Service/ Salesforce Integration
Extend your Salesforce CRM through Web Services.
Apex Callouts.
SOAP vs RESTful Web Services
Implementation of WebServices.
Testing in Salesforce CRM
Overview of Testing Framework Salesforce in CRM
How to write Test Cases for different apex components.
Ans: Mobile computing uses the same concept as cloud computing. Cloud computing becomes active with the data with the help of the internet rather than the individual device. It provides users with the data which they have to retrieve on demand. In mobile, the applications run on the remote server and give the user access to storage and management.
Ans: Identity management: It authorises the application services Access control: permission has to be provided to the users so that they can control the access of another user who is entering into the cloud environment. Authentication and Authorization: Allows only the authorised and authenticated user only to access the data and applications.
Ans: In Cloud Computing, a systems integrator provides the strategy for the complicated process used to design a cloud platform. Integrator allows for creation of more accurate hybrid and private cloud networks, as integrators have all the knowledge about the data centre creation.
Ans: Cloud computing has come to be used widely across industries. Some of the top players, in this case, are Windows Azure, Amazon Web Services, and iCloud, which is exclusively for iOs users. These are the broadly used cloud platforms. However, there are emerging cloud services available in the market.
Ans: Infrastructure as a Service (IaaS) Platform as a Service (PaaS) Software as a Service (SaaS)
Ans: Cloud service providers are the companies that sell their cloud services to others. Sometimes these companies also provide cloud services internally to their partners, employees, etc.
Ans: Google Bigtable Amazon Simple Database Cloud-based SQL (Sequential Query Language)
Ans: Scalability is a characteristic of cloud computing through which increasing workload can be handled by increasing in proportion the amount of resource capacity. Whereas, elasticity is one of the characteristics that highlights the concept of commissioning and decommissioning a large amount of resource capacity.
Ans: To overcome the maintenance cost and to optimise the resources, there is a concept of three data centres in the cloud which provides recovery and backup in case of disaster or system failure and keeps all the data safe and intact.