After Python Training Courses, you will get confidence in programming and can work on your projects. As most of the companies are offering jobs for those employees who know of Python programming language, there are a lot of job opportunities in Python. Thus python programming courses will be beneficial for your growth in the industry. The only need for a student is to select the right direction from the right place like Ducat, the Best IT Training Institute in Delhi NCR.

Key Takeaways
It has readable code.
It easily handles the error gracefully.
Python has concise code.
Python is a language which is used for personal and professional projects.
Python is used in data analysis and web development.
Training & Placement
The Training & Placement cell is devoted to providing all available help to the candidates in their efforts to follow out employment and Best Python Internships in Noida in every area. The placement administration works beside alternative administration as a team in moulding the scholars to the fundamental of varied industries.
We got proactive and business clued-in Placement Cells that delight itself on a robust skilled network across various sectors. It actively coordinates with every candidate and ensures that they get placed with MNCs among six months of graduating.
Career after Python Programming Training Course
There are millions of job openings for python developers.
Python is a widely-used programming language for web development language, and this fact will create more and more job opportunities for python skills.
Due to the developing demand for websites, web applications & artificial intelligence, python has captured the market for its survival.
If you look at the famous job market and search for python developer jobs, you will realize the importance of this language.
Why Choose DUCAT For Python Course in Noida?
Python Course in DUCAT Noida is constructed according to the current IT industry.
DUCAT is called the best Python Course training centre in Noida because we mainly focus on practical and live project session.
DUCAT offers the best in the class corporate training session for Python that will generate you from your classroom right into the corporate world of real-time programming.
DUCAT is an excellent training institute in Noida with better integrated infrastructure and newly created labs for students to prepare and follow training for several courses at Noida.
All our training sessions are established on live market projects. Training will be operated by certified experts.
DUCAT lecture rooms are entirely geared up with projectors and WIFI-Access.
24 x 7 workshop ease. Candidates are a compliment to approach the workshops for an endless number of time as per their chosen timings. DUCAT gives the best Python Course Training in Noida.
At DUCAT, Python Course Training in Noida is delivered by skilled working corporate having 10+ years of experience in achieving real-time Python projects.
DUCAT has secured hundreds of its candidates in multiple reputed companies and has developed a remarkable reputation in the market.
Python Course is one of the best trending and hugely carrier oriented development in the IT market.
Through our training development, you will raise the knowledge of technology at the industrial level.
DUCAT is one of the good Python Course institutes in Noida with 100% job service.
DUCAT has specific course modules and training development for candidates.
DUCAT lecture rooms are completely geared up with projectors and WIFI-Access.
It is based on the current industry market that helps students to safe placements in their dream jobs at Multinational Companies.
There are various reasons which make DUCAT one of the best Python Course Training Institute in Noida & Delhi NCR.
DUCAT is giving hands-on practical knowledge and full placement assistance with introductory as well as advanced level Python Course Training session.
One of the hugest team of certified professional teachers with 4 to 10 years of market experience.
DUCAT workshops are well-appointed with the current version of hardware and software.

How Ducat Provides Best Placement Assistance?
Ducat is the best institute for Python Certification Training in Noida in providing placement assistance to every student.
We also teach students how to build their Resumes.
Our Placement cell helps every student to get a job in MNCs like Tech Mahindra, Wipro, TCS, Accenture, etc.
Internships are also available in Ducat.
The placement department works beside alternative departments as a team in molding the scholars to the necessities of varied industries. We got proactive and business clued-in Placement Cells that pride itself on a robust skilled network across numerous sectors.
It actively coordinates with every student and ensures that they get placed with purported MNCs among six months of graduating. We are the Best Python Training Institute in Delhi NCR.
Ducat Noida is one in all the leading IT & Technical Training Institute in Delhi NCR. We have got a team of Best professionals who teaches our students to learn Python on live projects. We provide Quality in Python Training Course in Noida to come up with deployable and expert professionals for the industry. We are certified partners with various Multi-National Companies (MNCs) and provide our students with professional certification.
Our Top Hiring Partner for Placements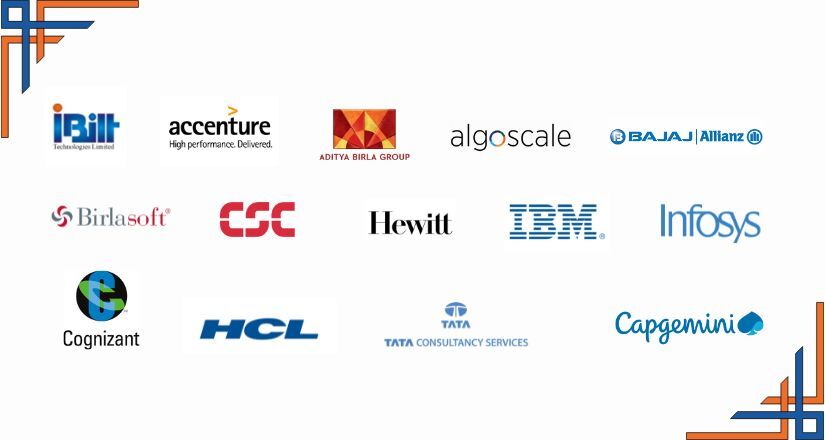 Python Interview Questions - Updated (2022)
Q: Explain some characteristics of Python?
Ans: Python is a general purpose, high-level, interpreted language. It was specifically developed to make the content readable. Python has often been compared to the English language, and it also has fewer syntactic constructions compared to other languages.
Q: What are some distinct features of Python?
Ans: The features of Python are:
Structured and functional programming is supported.
It can be compiled to byte code to create larger applications.
Supports high-level dynamic data types.
Supports checking of dynamic data types.
Applies automated garbage collection.
Q: What are tuples?
Ans: Tuples are a sequence data type with immutable values in Python. The number of values I tuples are separated by commas.
Q: What is pep 8?
Ans: Python Enhancement Proposal or pep 8 is a set of rules that specify how to format Python code for maximum readability.
Q:What is the Pass statement?
Ans: A Pass statement in Python is used when we cannot decide what to do in our code, but we must type something to make it syntactically correct.
Q: What is PYTHONPATH?
Ans: it is an environment variable which is used when a module is imported. Whenever a module is imported, PYTHONPATH is also looked up to check for the presence of the imported modules in various directories. The interpreter uses it to determine which module to load.
Q: What is the usage of the help() and dir() function in Python?
Ans: Help() and dir() both functions are accessible from the Python interpreter and used for viewing a consolidated dump of built-in functions. Help() function: The help() function is used to display the documentation string and also facilitates you to see the help related to modules, keywords, attributes, etc. Dir() function: The dir() function is used to display the defined symbols.
Q: What is docstring?
Ans: Docstring is a Python documentation string, it is a way of documenting Python functions, classes, and modules.
Q: What are relational operators, assignment operators, and membership operators?
Ans: The purpose of relational operators is to compare values. The assignment operators in Python can help in combining all the arithmetic operators with the assignment symbol. Membership operators in Python with the purpose to validate the membership of a value in a sequence.
Q: Describe multithreading in Python?
Ans: Using Multithreading to speed up the code is not the go-to option, even though Python comes with a multi-threading package. The package has the GIL or Global Interpreter Lock, which is a construct. It ensures that only one of the threads executes at any given time. A thread acquires the GIL and then performs work before passing it to the next thread.
Introduction To Python
Duration: 2 Months
Why Python
Application areas of python
Python implementations

Cpython
Jython
Ironpython
Pypy

Python versions
Installing python
Python interpreter architecture

Python byte code compiler
Python virtual machine(pvm)
Writing and Executing First Python Program
Using interactive mode
Using script mode

General text editor and command window
Idle editor and idle shell

Understanding print() function
How to compile python program explicitly
Python Language Fundamentals
Character set
Keywords
Comments
Variables
Literals
Operators
Reading input from console
Parsing string to int, float
Python Conditional Statements
If statement
If else statement
If elif statement
If elif else statement
Nested if statement
Looping Statements
While loop
For loop
Nested loops
Pass, break and continue keywords
Standard Data Types
Int, float, complex, bool, nonetype
Str, list, tuple, range
Dict, set, frozenset
 
String Handling
What is string
String representations
Unicode string
String functions, methods
String indexing and slicing
String formatting
Python List
Creating and accessing lists
Indexing and slicing lists
List methods
Nested lists
List comprehension
Python Tuple
Creating tuple
Accessing tuple
Immutability of tuple
Python Set
How to create a set
Iteration over sets
Python set methods
Python frozenset
Python Dictionary
Creating a dictionary
Dictionary methods
Accessing values from dictionary
Updating dictionary
Iterating dictionary
Dictionary comprehension
Python Functions
Defining a function
Calling a function
Types of functions
Function arguments

Positional arguments, keyword arguments
Default arguments, non-default arguments
Arbitrary arguments, keyword arbitrary arguments

Function return statement
Nested function
Function as argument
Function as return statement
Decorator function
Closure
Map(), filter(), reduce(), any() functions
Anonymous or lambda function
Modules & Packages
Why modules
Script v/s module
Importing module
Standard v/s third party modules
Why packages
Understanding pip utility
File I/O
Introduction to file handling
File modes
Functions and methods related to file handling
Understanding with block
Object Oriented Programming
Procedural v/s object oriented programming
OOP principles
Defining a class & object creation
Object attributes
Inheritance
Encapsulation
Polymorphism
Exception Handling
Difference between syntax errors and exceptions
Keywords used in exception handling

try, except, finally, raise, assert

Types of except blocks
Regular Expressions(Regex)
Need of regular expressions
Re module
Functions /methods related to regex
Meta characters & special sequences
GUI Programming
Introduction to tkinter programming
Tkinter widgets

Tk, label, Entry, Textbox, Button
Frame, messagebox, filedialog etc

Layout managers
Event handling
Displaying image
Multi-Threading Programming
Multi-processing v/s Multi-threading
Need of threads
Creating child threads
Functions /methods related to threads
Thread synchronization and locking
SQL
Introduction to Database
Database Concepts
What is Database Package?
Understanding Data Storage
Relational Database (RDBMS) Concept
SQL (Structured Query Language)
SQL basics
DML, DDL & DQL
DDL: create, alter, drop
SQL constraints:

Not null, unique,
Primary & foreign key, composite key
Check, default

DML: insert, update, delete and merge
DQL : select
Select distinct
SQL where
SQL operators
SQL like
SQL order by
SQL aliases
SQL views
SQL joins

Inner join
Left (outer) join
Right (outer) join
Full (outer) join

Mysql functions
String functions

Char_length
Concat
Lower
Reverse
Upper

Max, min, sum
Avg, count, abs
Python Database Connectivity
Creating database connection
Understanding Cursor
Executing queries
Parameterized queries
Project using tkinter and database connectivity